Customer Reviews
Write a Review
Ask a Question
09/11/2020
Edward G.
United States
I recommend this product
Beware the weight gain. ;-)
I've eaten so many mug meals, I gained 15 pounds in the last 4 weeks since I discovered your YouTube channel, and have gone through about 5 pounds of chocolate chips, and a few extra dozens of eggs. Thank you. No, seriously, really, thanks! I'm only 75, and I wish I had a mug meal recipe book when I was a kid. These mug meals are great, and my 6 adult children are thinking so, too since I email your recipes to them. I'd still like to see a mug meal for Scotch eggs. Good job!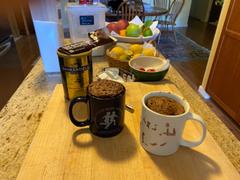 09/11/2020
Patricia W.
South Africa
I recommend this product
Sorry I have been ill and will only start using book this coming week
09/10/2020
Lisa S.
Canada
I recommend this product
Mug-cakes review
I love the mug-cakes recipes. The easy instructions and variables to the recipes is great
09/06/2020
Patricia V.
United States
I recommend this product
AWESOME MUG AND RECIPES
Love the easy recipes and adorable mug
08/31/2020
Ron S.
United States
I recommend this product
You've Gotta Get This Book
It's not only fun but it's great for people who are busy but great if you have kids and want them to learn how to cook and learn cooking measurements.
Why choose Bigger Bolder Baking?
Chef Tested & Approved
Gemma Stafford is a professional chef with years of experience so you can trust Bigger Bolder Baking products to help you bake or even microbake with confidence!
We Have You Covered!
Gemma and the Bigger Bolder Baking team have answered almost 1 million fan comments across social media. It means we value you and we want to give you the best baking experience, helping you every step of the way.
Join a Community
Join millions of Bold Bakers on BiggerBolderBaking.com and across social media. Gemma and Bigger Bolder Baking strive to be your #1 online baking destination for the best recipes, techniques, and product.